Every September, Apple reveals the next updates on iPhones. For now, there are enough rumors circulating among iOS users and journalists alike. The real question is whether or not Apple's new iPhone lineup will live up to the hype.
This year, according to Bloomberg, Apple is more interested in getting people to buy iPhones than raising the price in the market. This means that we might see an increase in prices for other new models. Also, lower end iPhone models could get face ID and edge-to-edge screen design.
What is the rumored lineup?
Rumors suggest the release of three new iPhones this year. One will consist of a 5.8 inch OLED screen (bezel-free) with Face ID, stainless steel edges, a vertically oriented two lens camera on the glass back, quite similar in design to the previous iPhone X. The second one is rumored to consist of a 6.5-inch OLED bezel-free screen (one of the largest screens yet by Apple). It will also include face ID, stainless steel edges, dual cameras and a glass back.
The third one is proving to be the most intriguing. It will consist of a 6.1 inch LCD, a bezel-free screen, a glass back and face ID, Aluminum edges. It is seen like a larger version of the iPhone X but cheaper with the use of cheaper materials. Speaking of cheaper, Apple will also in use a single camera only to keep prices down. It will also come in a variety of colors. According to Apple analyst Ming-Chi Kuo, the LCD will come in grey, white, blue, orange, and red. On the other hand, the OLED iPhones will come in black, silver, and gold.
Removal of the bezel:
Most rumors are however pointing towards one thing, no more bezel. Instead, you'll see a full-screen design with a face ID. With this Apple will aim to improve app design and manufacturing. Some rumors also the 6.1 inch LCD will have a larger bezel.
What about the processor?
Multiple rumors state that Apple will include new A12 processors in the new iPhones manufactured by TSMC ( Taiwanese semiconductor Manufacturing company). Nor only will these chips be smaller bit will be 10% faster than the ones in the current iPhone X. This upgraded processor will also lead to efficient battery usage.
Upgraded RAM:
Rumors also indicate the new OLED devices will include a 4GB RAM, a step ahead of the 3GB in the iPhone X. The battery will also be L shaped and consist of two cells as in the iPhone X. However there will be a 25% larger battery capacity than the iPhone X. The LCD device, on the other hand, will use the same 3GB RAM and rectangle shaped battery.
Apple just revealed the iOS 12 updates with These 15 New Features
Display screen:
Apple analyst also says that the 6.1 inch LCD device will consist of a cover glass sensor located at the top of the display instead of built into the display itself. The result is a stronger and cheaper screen. Also, there are rumors saying Apple will definitely Ditch the 3D Touch for the LCD displays. Rumors also say all three devices will receive a Corning Gorilla Glass 6.
Face ID:
There is a large possibility of face ID to be included in all of the new devices. But this could lead to delays in iPhone manufacturing as it did last year with iPhone X.
Naming the new iPhone:
Naming the iPhone each year is traditionally the same. For example, after the iPhone 4, the next was named iPhone 5. Then the same device was upgraded and the name was given an additional 's', for example, the iPhone 5s. Then Apple changed it up a bit and included 'plus' in the names of newer upgraded devices. But last year the simple sequence was entirely forgotten as Apple released the iPhone 8 with iPhone X. Now there is a lot of speculation of what the new iPhone could be named. Apple releasing iPhone 9 with iPhone XI and iPhone XI plus seems unlikely. They could go back to adding a simple 's' as they used to and release an iPhone Xs and iPhone Xs plus.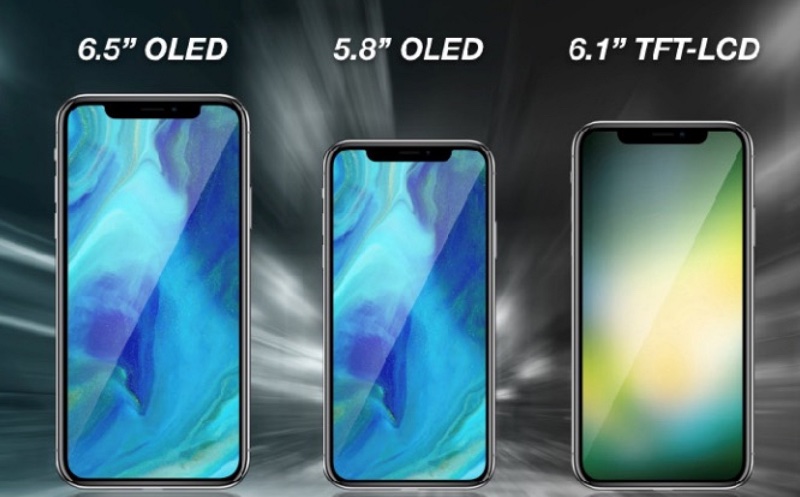 Replacing USB-A with USB-C:
Apple might upgrade and ship this year's iPhones with a USB-C cable after replacing the lightning port with a USB-C port. But this seems unlikely. But the new iPhones could be shipped with a new USB-C brick. This will not only lead to fast charging but also make it possible to plug your iPhone with a new MacBook.
When can I get it?
There is a huge possibility of Apple announcing the new iPhone at the Steve Jobs theater on September 12th. Pre-orders for the iPhones will commence from September 14th and sales will start from September 21st. However, these are all unconfirmed. There is also a chance of delay in shipping as it was for iPhone X.
Pricing:
The expected price for the 6.5 inch OLED device is falling in the range of $900-$1000. For the 5.8 inches, OLED rumors are predicting $800-900 while the 6.1 inches will most probably fall in the $600-700 range. With the average iPhone costing around $724, there will be no surprise if Apple succeeds in getting more people to buy iPhones.