Surface Mount Technology (SMT) is quite similar to components for Through-hole Technology in terms of function; however, they are comparatively better in terms of electric performance. The components used in electronics are not always available for SMT, however, this can be solved by using mix-and-match surface mount assembly.
Availability of SMCs:
The use of components, lead configurations, and package types to form a product is not exactly simple; Particularly in SMT, the use of components is complex due to the range of requirements. For example, they should withstand high temperature, they should be properly placed and soldered so the product meets the demands. There are many standards of different components to sort out from while some may not have any at all. Some are available with the discount while others are of the best quality. The SMT field is constantly evolving and changing to help resolve the various issues that arise from the standardization of components and economic and technical issues included.
There are two basic types, active and passive surface mount electronic components.
Passive Surface Mount Electronic Components (SMCs):
Components that do not provide any additional power gain to the circuit or device are called passive components. Their use is somewhat simpler in SMT. Their shapes are usually either rectangular or cylindrical. Passive surface mount resistors and capacitors also come in various case sizes so they can be used in all kinds of applications.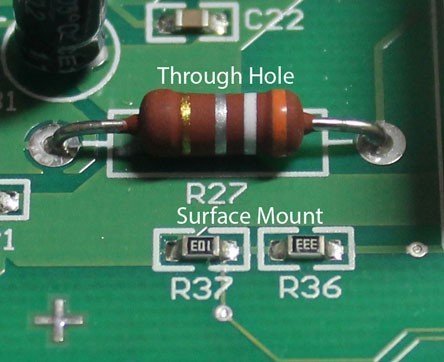 1: Surface Mount Discrete Resistors: These are of two main types, thick film, and thin film.
Thick surface mount resistors

are built by screening a resistive film onto a flat alumina surface. The resistance value is then obtained by checking the variance between the composition of resistive paste before screening and after screening along with laser trimming of the film.   
Thin film resistors

are built with the resistive element on a ceramic base with a protective coating on top. It also has soldered terminations on its sides which have an adhesion layer on the ceramic substrate and nickel underplating followed by solder coating. The nickel underplating helps to preserve the solderability of terminations.  
Resistors come in different watt ratings such as 1/16, 1/10, 1/8 and 1/4 in 1-100 megaohm resistance for different sizes (0402, 0603, 0805, 1206 and 1210 etc.) and tolerance.  
2: Surface Mount Resistor Networks: Also known as R-packs, these are commonly used as replacements for a series of discrete resistors i.e. a combination of several resistors. The body dimensions may vary. Generally, they come in 16-20 pins.
3: Surface Mount Ceramic Capacitors: A ceramic capacitor is a fixed value capacitor in which the ceramic material acts as a dielectric. They are ideal for high-frequency applications and are also used in decoupling applications.  They are very reliable and have been used in automotive, military and aerospace applications.
4: Surface Mount Tantalum Capacitors: The dielectric used here can be ceramic or tantalum. They offer higher efficiency and reliability. The plastically molded tantalum capacitors have leads instead of terminations, do not require soldering and there are no placement concerns. Their capacitance varies from 0.1-100 µF and from 4-50 V. They can also be custom made.
5: SMT Tubular Passive Components:  Metal electrode leadless face (MELFs) is a type of cylindrically shaped device. It is used for resistors, capacitors, and diodes. Its metal ends are used for soldering. They are less expensive and are color-coded to show different values. The diodes are known as MLL 41 and MLL 34. The resistors are distinguished as 0805, 1206, 1406 and 2309.
Active Surface Mount Electronic Components:

There are two main categories of active surface mount electronic components:
Leadless Ceramic Chip Carriers:

These chip carriers do no lave any leads, but have gold plated terminations that help to operate at higher frequencies. They are distinguished on the basis of the pitch of the package. Common are 50 mil, 40 mil, 25 mil etc.

Ceramic Leaded Chip Carriers:

These are available in both preleaded and postleaded formats. The preleaded chip carriers the manufacturer attaches copper alloy or Kovar leads while the postlead chip carriers have leads attached to the castellations of the leadless ceramic chip carriers by the customer.
1: SMT Active components (plastic SMD packages): Ceramic packages are usually expensive, therefore, plastic SMD packages are mostly used for applications (except military). The plastic packages also have fewer chances of showing complications such as cracking between package and substrate.
2: SOT (Small Outline Transistors):
SOTs are three or four lead devices. The three lead SOTs are distinguished as SOT 23 (EIA TO 236) and SOT 89 (EIA TO 243) while the four lead devices are known as SOT 143 (EIA TO 253). There are generally used for diodes and transistors.
3: SOP and SOIC (Small Outline Integrated Circuit): This is basically used to house larger ICs that cannot be housed in SOT packages. It has leads on 0.050-inch centers, usually on two sides and is formed outwards. They can also be used for the housing of multiple SOTs. They come in two widths, 150 mils, and 300 mils. The 150 mils width is used for packages having lesser than 16 leads. If the leads are more than 16 then 300 mils width is used.
4: PLCC (Plastic Leaded Chip Carriers): You can consider this a cheaper alternative to ceramic chip carriers. The leads available help to prevent solder joint cracks by taking up the solder joint stress. However, they can absorb moisture and crack so they need to be handled properly.
5: SOJ (Small Outline J Packages):
This package is almost a hybrid of SOIC and PLCC combined to give the benefits of both. They have pins on only two-sided, unlike PLCC. They are used for high-density DRAMS.
6: Fine Pitch SMD Packages:
Fine pitch packages have finer pitch and a higher number of leads, for example, QFP (Quad Flat Pack) and SQFP (Shrink Quad Flat Pack). They also have thinner leads and land pattern designs.
7: BGA (Bill Grid Array):
BGA is an array package without any leads. There are two main categories, ceramic (CBGA or CCGA) and plastic (PBGA). Another type is the tape BGA (TBGA). The sizes vary from 7-50 mm and the pin counts vary from 16-2400. Common pin counts are from 200-500. BGAs usually have a higher yield. One reason for this is their self-alignment during reflow (specially PBGAs and CBGAs)